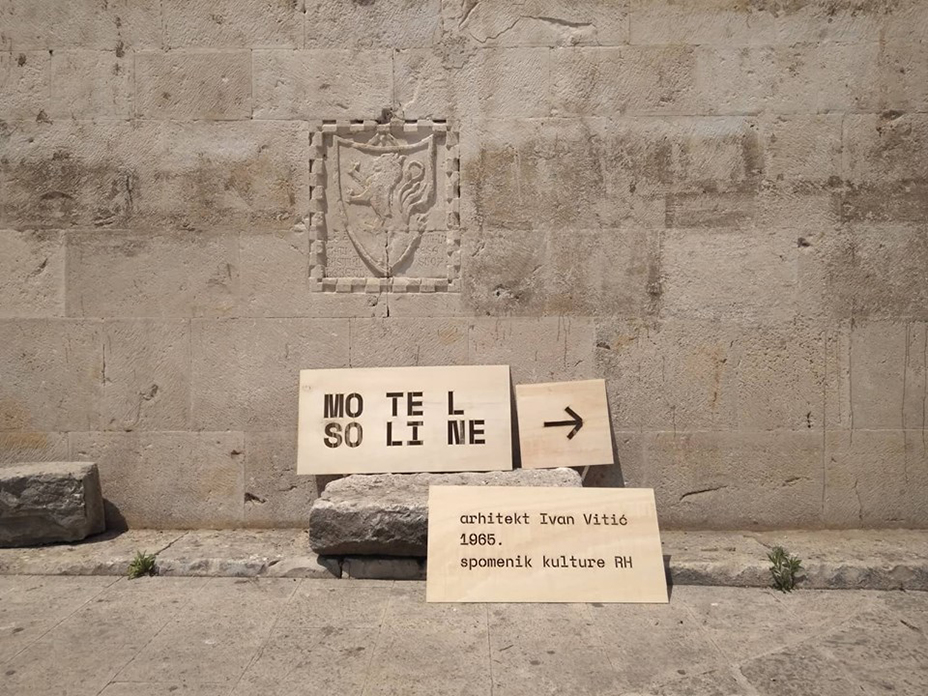 Heritage Activism,
signage Motel Soline (detail),
Trogir, 2018.
Photo: Saša Šimpraga
>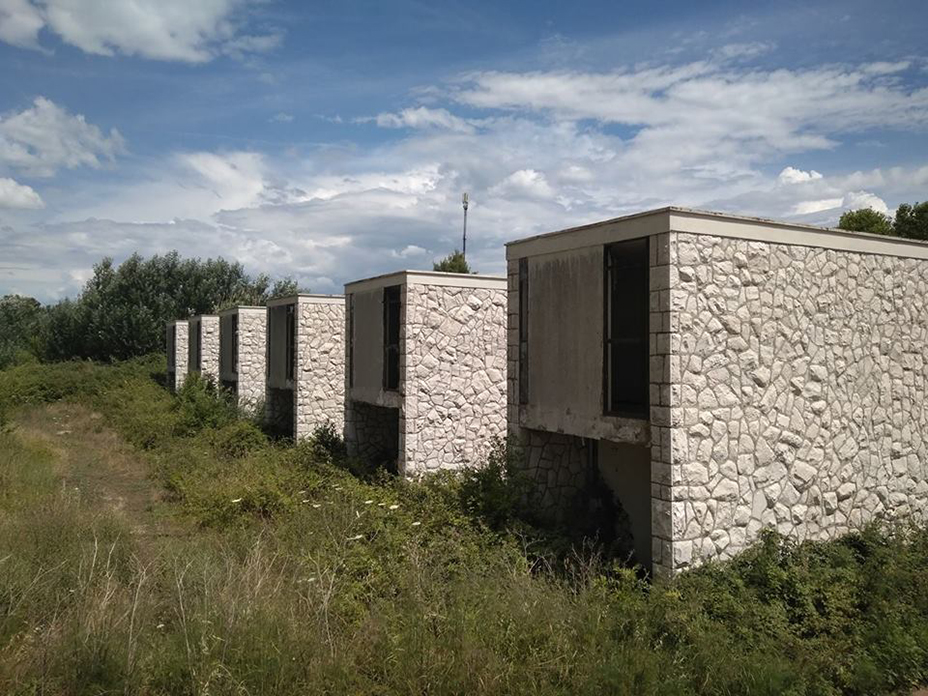 Motel Soline (orig. Motel Sljeme) in
Trogir, architect Ivan Vitic, 1965.
Photo: Saša Šimpraga/Motel Trogir
>
After five years of activist and broader cultural work on the issue of re-evaluation and recognition of the architectural heritage from the period of the Socialist Federal Republic of Yugoslavia (commonly referred to as the former state) Loose Associations is about to scrutinize their actions and reflect on what has been done so far and what is to be done in the future. The safeguarded, but abandoned Yugoslav modernist buildings like Motel Trogir, designed (in 1965) by Ivan Vitic, raise questions: What is the purpose of these buildings within a new societal paradigm? Which agency decides on their preservation? Is a construction designed with utopian ideals bound to time and history or does it have a transformed significance in contemporary society? What remains if the progressive form is devoid from its original content?
The Motel Trogir program within the CDCM project will pursue a wider reflection on the significance of the architectural structures from the period of state socialism, what do they represent today? What is their social potential beyond the profit oriented tourism industry, where they are often placed as elements of 'estrangement'? We would like to address these issues through collaboration with artists, theorists and activists from different geographies, with knowledge of endangered cultural heritage, to explore areas of consensus and controversy unfolding local experiences concerning the particular value of cultural heritage as a space of representation. The international conference and several artist-in-residency programs with participants from former Yugoslavia, post-Soviet territory, North African post-independence context and The Netherlands post-imperialist context, will occupy a central place in the Croatian activity cluster within the project.

Open call two weeks artist residency in Amsterdam for Croatian artist In the framework of the CDCM project, Slobodne veze/ Loose Associations are launching a call for Croatian artists to express interest for a two weeks residency in Amsterdam that will take place in February 2019/ March 2020. The topic is re-visiting archives and developing new approaches of engaging with cultural heritage.
Whereas in North Macedonia and Croatia we witness a level of negligence, that unveils an attitude of disavowal towards cultural heritage from a specific period in history, in the Netherlands cultural heritage is well protected through governmental policies. Consequently, depots are congested with heritage and cultural budget is spent to protect what cannot be seen by the citizens. Do these artifacts, piled up in storehouses, ripped from their meaning in life, have the capacity to retain their meaning or produce new meanings? Voices are raised to alter the attitude towards such heritage and look for different ways in which it can be perceived.
Interested artists from Croatia please send a short motivation letter (1 page max) and a portfolio showing the interest in the proposed topic.
Deadline: March 1st, 2019
For all questions, write us to slobodne.veze@gmail.com
The chosen artist for the CDCM residency in Amsterdam is Luiza Margan.
We would like to thank to all the artists who responded to our open call.

Art residencies,
August/September 2019
Symposium and exhibition,
September 2019, Zagreb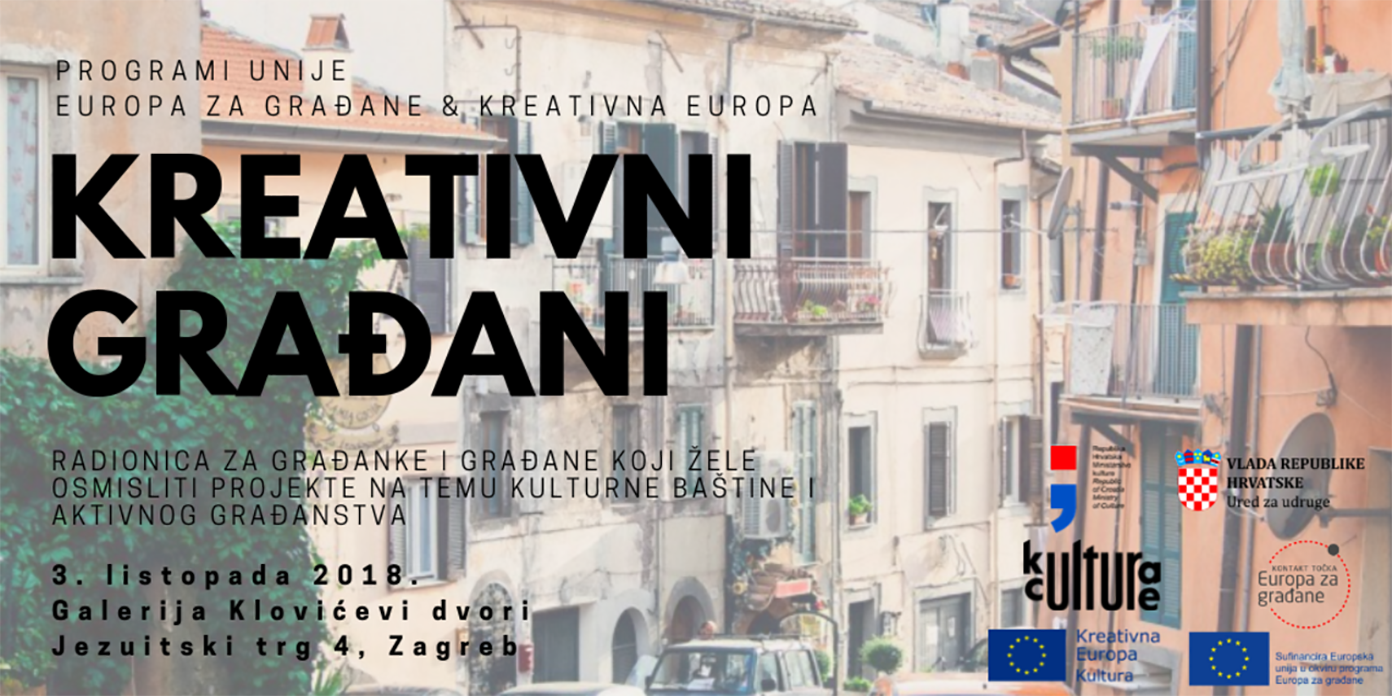 Presentation & Workshop:
Motel Trogir Project
For citizens interested in cultural heritage and active citizenship, the Motel Trogir project is presented in a workshop by Natasa Bodrožić at the Klovicevi Dvori Gallery in Zagreb. In the same event the North Macedonian and the Dutch projects within CDCM are presented. Organized by the Ministry of Culture of the Republic of Croatia /EU desk and the Government Office for Cooperation with NGOs.

Presentation and workshop
Motel Trogir Project
10.00 -12.00 hours
October 3, 2018
Klovicevi dvori Gallery
Jezuitski trg 4, Zagreb